PrivIQ and Cultiva Partners announce a preferred channel partnership for the USA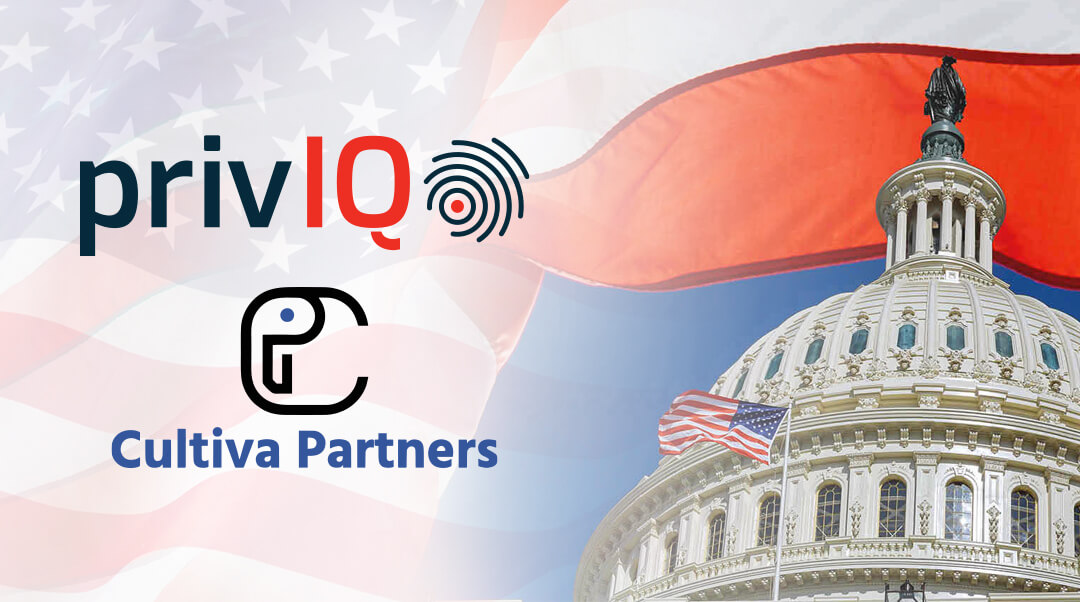 PrivIQ, a leading provider of global data privacy compliance management software, has signed a preferred channel partner agreement in the USA with Cultiva Partners, a Boulder Colorado based provider of Data Privacy and Cyber-Security consulting and services in the USA.
Working with Cultiva Partners, we have built a data privacy and data protection service geared to organizations that wish to implement a comprehensive program even though there is no current single US Federal data privacy law for this. The PrivIQ software as a service (SAAS) solution provides PrivIQ - Data Protection DynamiX Method™ for SME, Mid-Tier and Enterprise solution to organisations in the USA. In addition clients can opt to add in the CCPA (California Consumer Protection Act) module, and in future other states specific regulation as well as our Immutable Consent Management module.
The PrivIQ - Data Protection Dynamix Method™ ensures a trusted relationship with customers is put in place, shortens sales cycles and is built as a comprehensive, yet simple to run programme.
Clients can opt for the PrivIQ - Data Protection Dynamix Method™ - Rapid implementation, where they will get a results-orientated implementation using guides and a "done with you" approach, divided into weekly segments.
Further services offered are a Data Privacy Advisory where Cultiva Partners will work with organizations to align their data privacy and protection programmes with their business strategy through implementing strategic compliance, operational controls and enduring trustworthy connections with customers, employees, suppliers and other stakeholders.
Globally, compliance with data privacy regulations is being legislated in more and more countries. It is expected that by 2023 65% of the world's population will have its personal information covered under modern privacy regulations.
Many organisations are still using spreadsheets and paper-based systems to manage their data privacy programs; this is proving inadequate, time consuming and non-collaborative. Managing ongoing compliance with the data privacy and protection regulations is complex and requires a software service in order to do it efficiently.
Nalini Indorf Kaplan, the CEO of Cultiva Partners says,
"PrivIQ is an elegant, extensible and robust solution that is well-suited to support organizations in the complex and ever evolving US data privacy landscape. We needed a platform that our clients could easily tailor and extend to include compliance requirements from various US States, US Federal Laws and Regulation and accommodate information security frameworks as well. Many of our clients have expanded to the UK, EU and other markets and PrivIQ can meet the data protection requirements in these markets as well.

PrivIQ packs tremendous value into its platform: automating every key component of privacy management, offering ease of use through step-by-step wizards and providing flexibility of custom content such as data mapping, policies, required training and acknowledgements and contracts.

These factors plus a talented top-notch team at PrivIQ gave us the confidence to take this solution to the US market."
Under the agreement, Cultiva Partners will be able to sell direct to clients, as well as to build a network of partner resellers, consulting firms, skilled data protection officers (DPO's) and others who will be able to offer the solution to their clients on an ongoing basis and assist with the necessary consulting in order to ensure a successful data privacy and protection programme is in place in the client organisations.
"We have worked with Cultiva Partners for a number of years and now together have completed a US-specific service that has a great product market fit", says Tai Chesselet, CEO of PrivIQ, "We will be working together to grow the US market which according to Fortune Business Insights will be the fastest growing market for data privacy SAAS services from 2022 to 2028". They further state, "The USA is likely to lead the segment, owing to the growing awareness regarding data protection acts. The government of the USA is expected to drive more stringent laws on data protection".
(https://www.fortunebusinessinsights.com/data-privacy-software-market-105420)
The global data privacy global market size is set to grow from USD 1.68 billion in 2021 to USD 25.85 billion by 2028, this is a compound annual growth rate (CAGR) of 40.8%.
Data privacy management software enables organisations to manage and operate customers', staff and suppliers' personal data in a controlled and secure manner. The increasing loss of data through ransomware attacks, data theft and other malicious actions have forced governments of various countries to implement data privacy enforcement laws and regulations. These laws are essentially guides to building a trustworthy, secure and able organisation in the digital age.
About Cultiva Partners:
Cultiva Partners was founded in Colorado in 2012. We work with mission-driven business leaders to align customer acquisition and relationships with robust privacy and cybersecurity programs. With every initiative, we help build reliability and reduce liability in our clients' business. We serve clients from both the private and public sectors both domestically and outside the US.

The founder and owner of Cultiva Partners, Nalini Kaplan, has created the DataProtection DynamiX™ Method and serves as a DPO for several organizations.

We provide data protection specialists in accordance with the requirements US and other key data protection laws such as the EU GDPR, advising on strategic compliance, operational control and trustworthy connection-building. Their website is: https://cultivapartners.com
About PrivIQ:
PrivIQ is based in Amsterdam, Netherlands.
We build trust for our clients, between them and their stakeholders, by providing clear, concise data privacy compliance management software under a SAAS model.

PrivIQ is regulation specific software covering 34 countries worldwide, 10 global regulations and 40% of the global GDP. With over 750 clients and a network of partners worldwide, PrivIQ is positioned to offer Intelligent Compliance, Simply.