PrivIQ and LGPD & GDPR Consulting announce a preferred channel partnership for Brazil.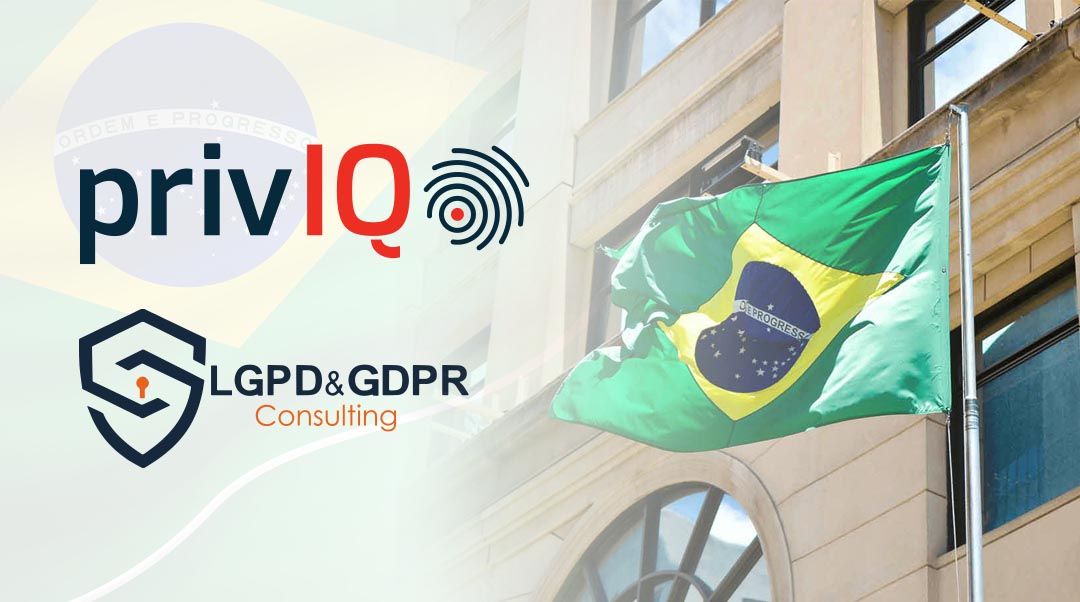 PrivIQ, a leading provider of global data privacy compliance management software, has signed a preferred channel partner agreement for Brazil with LGPD & GDPR Consulting, a prominent provider of Data Privacy and Cyber-Security consulting and services in Brazil.
The PrivIQ software as a service (SAAS) solution provides an SME, Mid-Tier and Enterprise solution to organisations needing to comply with the Brazilian LGPD regulations. The PrivIQ LGPD service has already been translated into Brazilian Portuguese by LGPD & GDPR Consulting, and is ready for market.
Globally compliance with data privacy regulations is being legislated in more and more countries, it is expected that by 2023 65% of the world's population will have its personal information covered under modern privacy regulations.
Many organisations are still using spreadsheets and paper based systems to manage their data privacy programs and this is proving inadequate, time consuming and non-collaborative. Managing ongoing compliance with the data privacy and protection regulations is complex and requires a software service in order to do it efficiently.
Rita Neves, the CEO of LGPD & GDPR Consulting says "PrivIQ caught our attention for creating a roadmap to comply with regulations and document all project deliverables. I found some very similar solutions, however: one used a single-user system, another was very basic, the other was very complete but was financially unfeasible. We chose PrivIQ and assisted in translating and adapting it to be tailored for LGPD. We are now an official channel partner for PrivIQ in Brazil, and we are available to all our fellow DPOs, Lawyers and Privacy Managers to provide a demo version for them to evaluate this incredible tool and to help them to use it in their client's compliance journeys".
Under the agreement LGPD & GDPR Consulting will be able to sell direct to clients, as well as to build a network of partner resellers, skilled data protection officers (DPO's) who will be able to offer the solution to their clients on an ongoing basis and assist with the necessary consulting in order to ensure a successful data privacy management programme is in place in the client organisations.
"We have enjoyed working with Rita Neves in building the solution for the Brazilian market and translating it for larger appeal.", says Tai Chesselet, CEO of PrivIQ, "We look forward to a great ongoing relationship".
The global data privacy global market size is set to grow from USD 1.12 billion in 2020 to USD 17.75 billion by 2028, this is a compound annual growth rate (CAGR) of 41.5%.
Data privacy management software enables organisations to manage and operate customer's, staff and supplier's personal data in a controlled and secure manner. The increasing loss of data through ransomware attacks, data theft and other malicious actions have forced governments of various countries to implement data privacy enforcement laws and regulations. These laws are essentially guides to building a trustworthy, secure and able organisation in the digital age.
About LGPD & GDPR Consulting:
LGPD & GDPR Consulting is a leading provider of consultancy in the areas of Data Privacy and Protection, computer forensics, compliance, governance and cyber security throughout Brazil. They are Nationally and Internationally accredited and in addition provide training, risk analysis, compliance assessments as well as assisting clients to manage ongoing data privacy compliance in accordance with the LGPD regulation.
Their website is: https://lgpdconsulting.com
About PrivIQ:
PrivIQ is based out of Amsterdam, Netherlands, we Build Trust for our clients, between them and their stakeholders, by providing clear, concise data privacy compliance management software under a SAAS model.
PrivIQ is regulation specific software covering 34 countries worldwide, 10 global regulations and 40% of the global GDP. With over 750 clients and a network of partners worldwide, PrivIQ is positioned to offer Intelligent Compliance, Simply.