A powerful suite of tools to simplify, to document and monitor your data practices and ensure your compliance.
PrivIQ is a powerful suite of tools to simplify, document and monitor your data practices, and ensure you comply with the law.
The tools are automated to deliver data privacy intelligence, so you can concentrate on your mission without the burdens of documenting and maintaining legal compliance.
We built PrivIQ to be the most comprehensive and affordable privacy and data governance platform on the market.
Manage your data privacy program in one place.
Simple intuitive software built for everyone, not just privacy wonks.
Say goodbye to spreadsheets. Automation saves time and money by reducing manual effort and multiple documents.
Demonstrate compliance. Build trust by in one click showing technical and organisational measures evidence and ownership.
Simplify teamwork and reporting. Good data governance requires a team. Save time by involving and delegating tasks to the appropriate stakeholders.
Intelligent compliance. Simply.
PrivIQ's Service Covers The Major Data Protection Regulations, Including GDPR, UK GDPR, LGPD, CCPA. Audits And Dashboards Allow The Understanding Of Risks And Assignment Of Priorities. Measure And Deliver On Privacy Program Operations.
PrivIQ framework provides guidance on what is required for regulatory compliance. Compliance audits and impact assessments ensure you assess potential risk areas and implement appropriate technical and organisational measures to mitigate the risks.
Automation tools to involve your team and nudge everyone towards completing their tasks. A data subject rights manager to simplify response to people's data requests. A breach management to ensure breaches are recorded, resolved and reported to the authorities, if necessary.
Assure privacy compliance by generating reports or records of processing activities. Dashboards to provide management understanding of risk and program status.
Software Features​
Intuitive dashboard
Easy collaboration
Multiple notifications
Customised reporting
Software as a service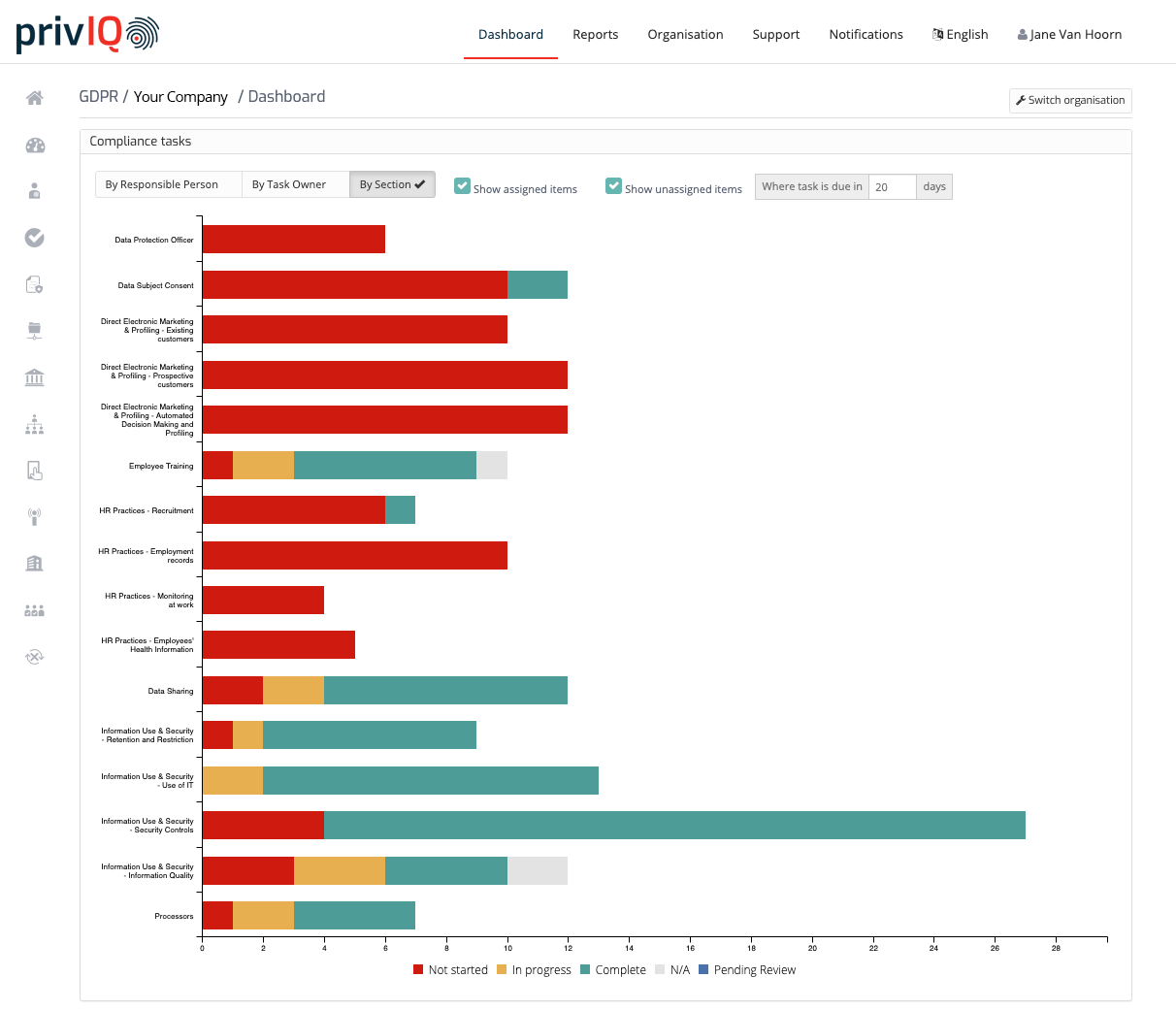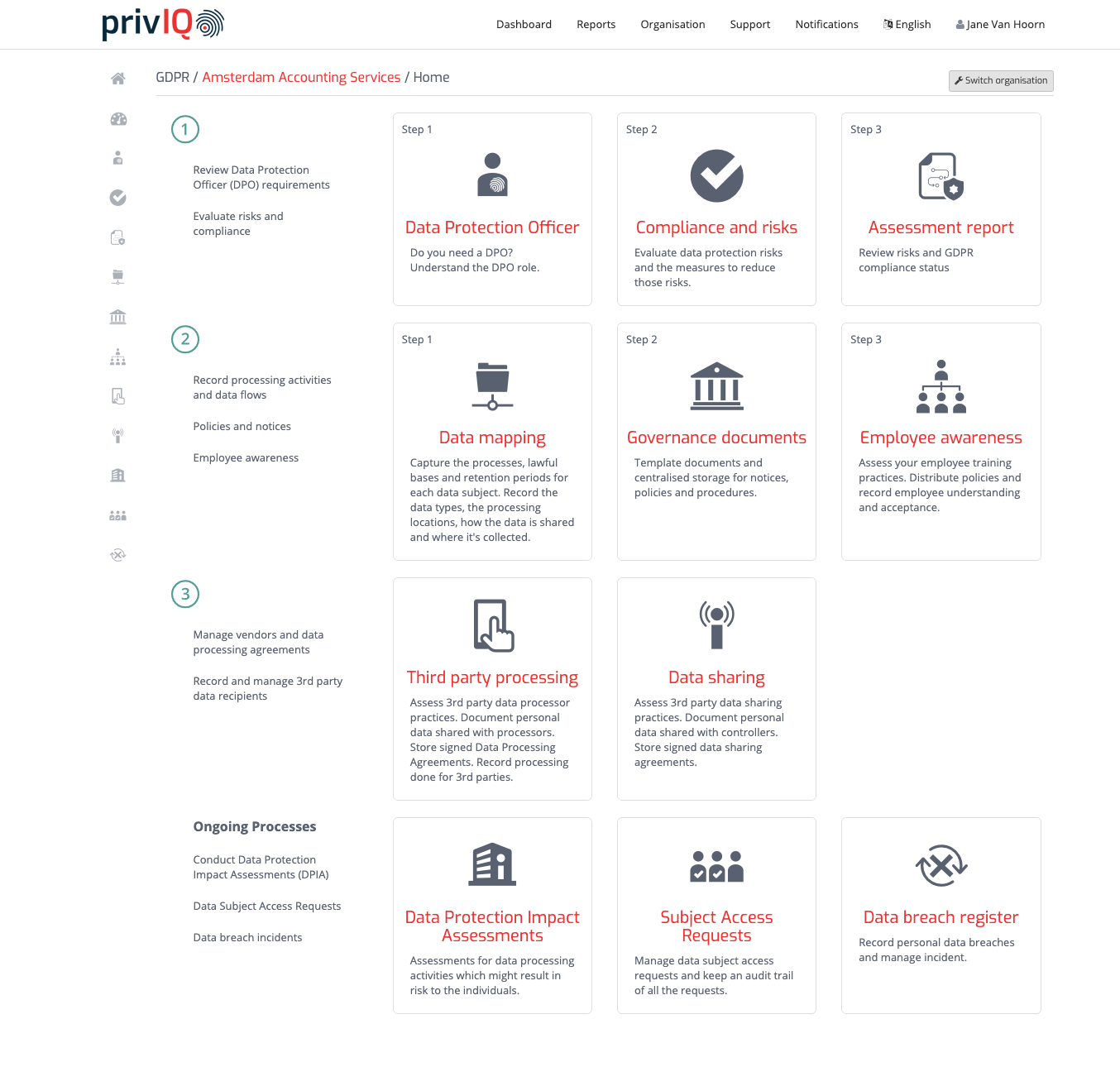 Home Screen layout
Home screen with all functionality available.
Work in a logical sequence.
Section 1
Information officer.
Ongoing compliance reviews.
Readiness Assessment of compliance areas.
Section 2
Data Mapping of data subjects, processing purposes and legitimate basis.
Governance – Privacy Notices, Governance documents, Document library.
Employee training and notification.
Section 3
Operators and data sharing agreements.
Ongoing processes
Data Protection Impact Assessments, Subject access
requests and security compromise recording
Compliance Section​
Use predefined areas, eg data subject consent, marketing, HR, IT, security
Add your own areas
Specify custom legislation, eg money laundering, PCI, own practices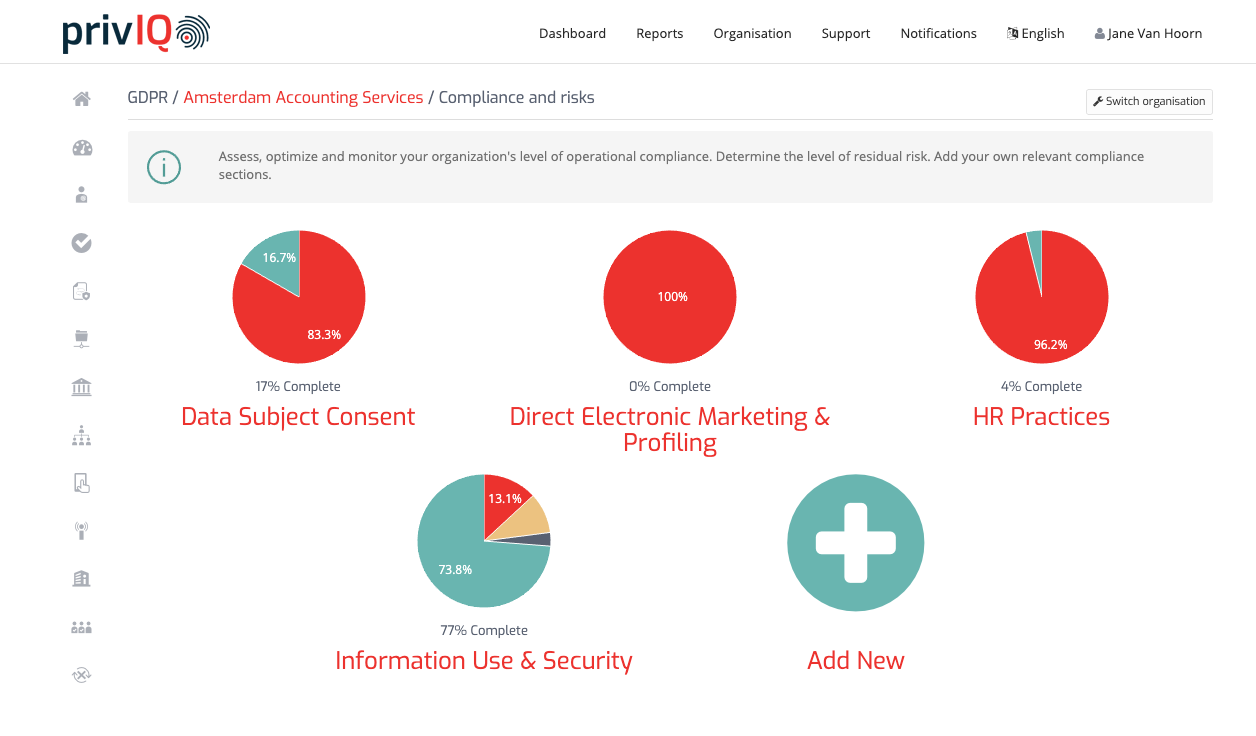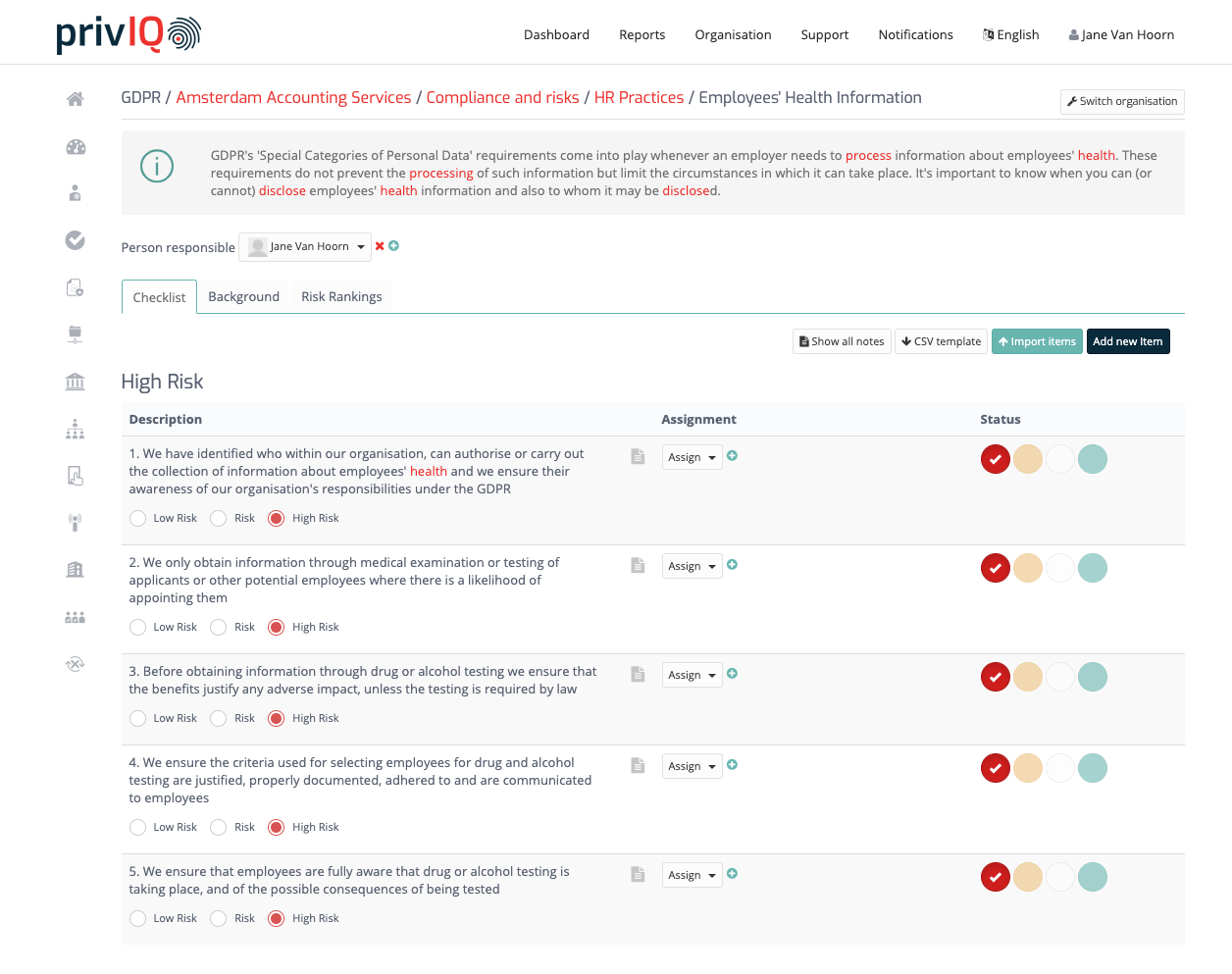 Compliance Items​
Use predefined items
Assign items to task owner
Specify item's review periods and due dates
Add notes and files to items
Set task status
Set risk level
Data Mapping​
Personal and sensitive personal information inventory.​
Understand whose information you hold, for what purpose, under which legal basis and for what duration.​
Assists in generating privacy notices, Records of Processing, defines 3rd
parties to whom data is sent or shared with.​
Enable LIA's (Legitimate Interest Assessments), store all artifacts of data mapping.​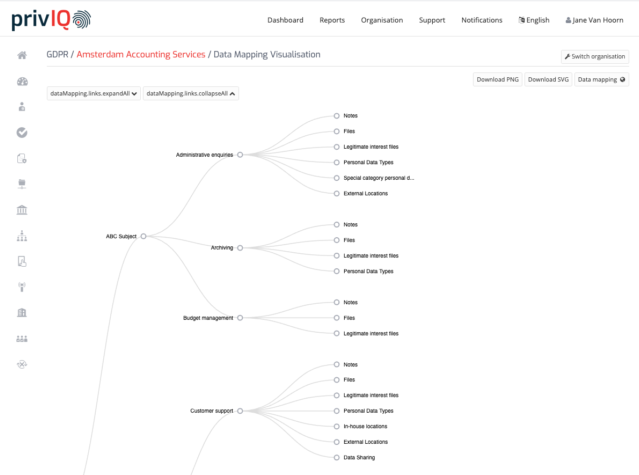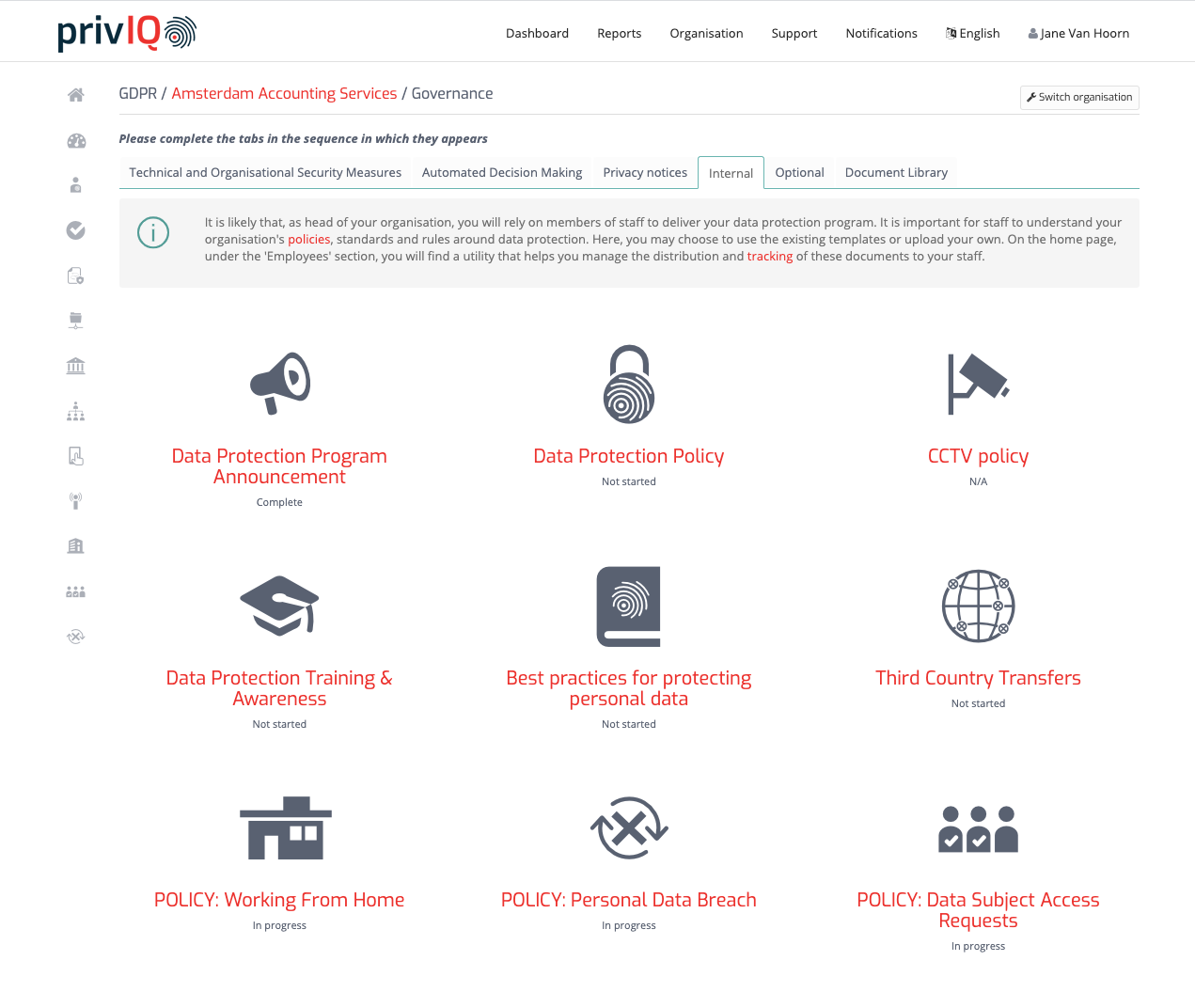 Governance​
Manage privacy notices​
Tailor pre-loaded governance policies to your organisation.​
Upload your own documents and
further policies to the document
library.
Communicate policies to all stakeholders and obtain "read and accepted" confirmations.​
Third party contracts and data sharing​
Manage third party and data sharing contracts
Ensure third party processors confirm their compliance
Store signed contracts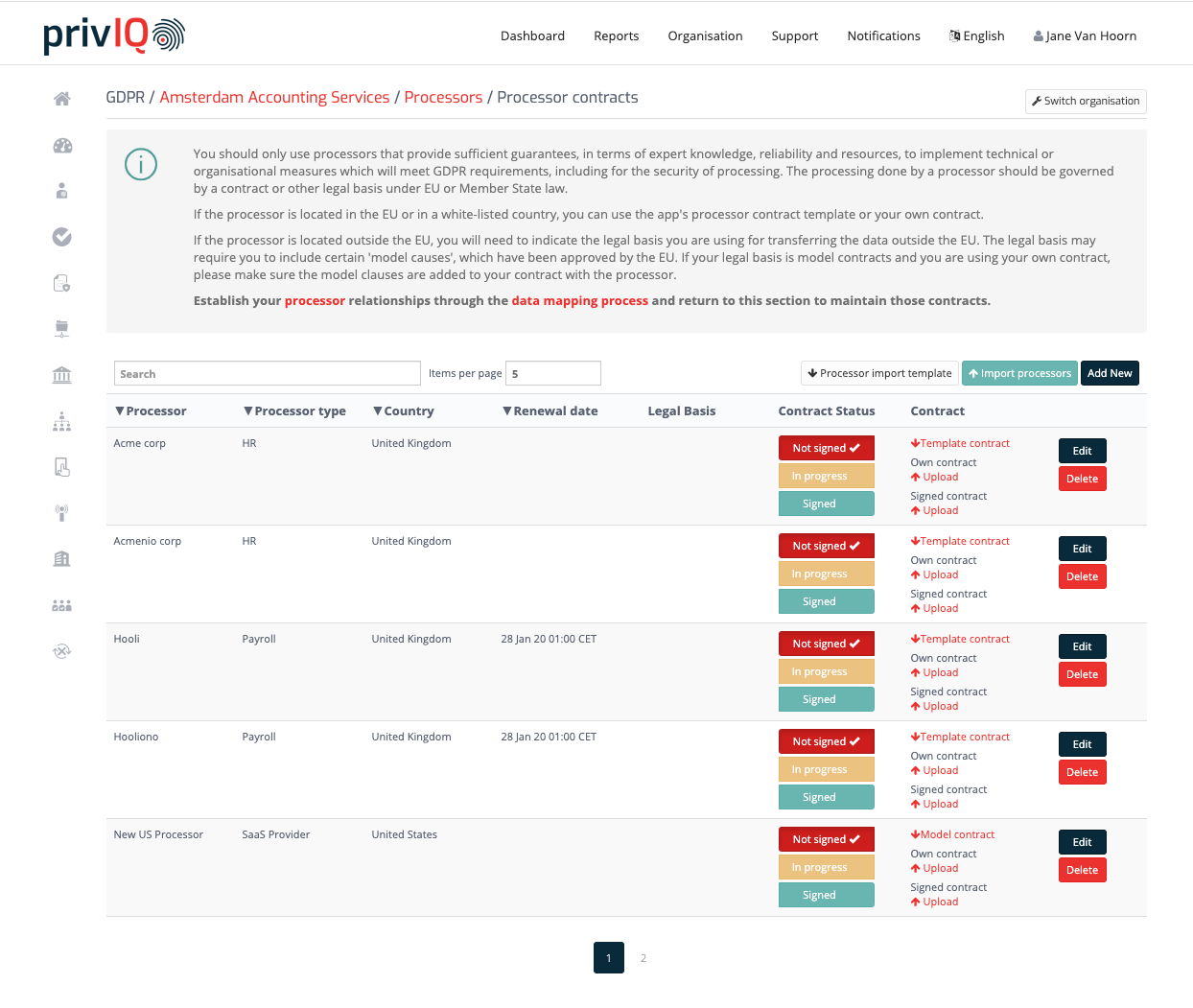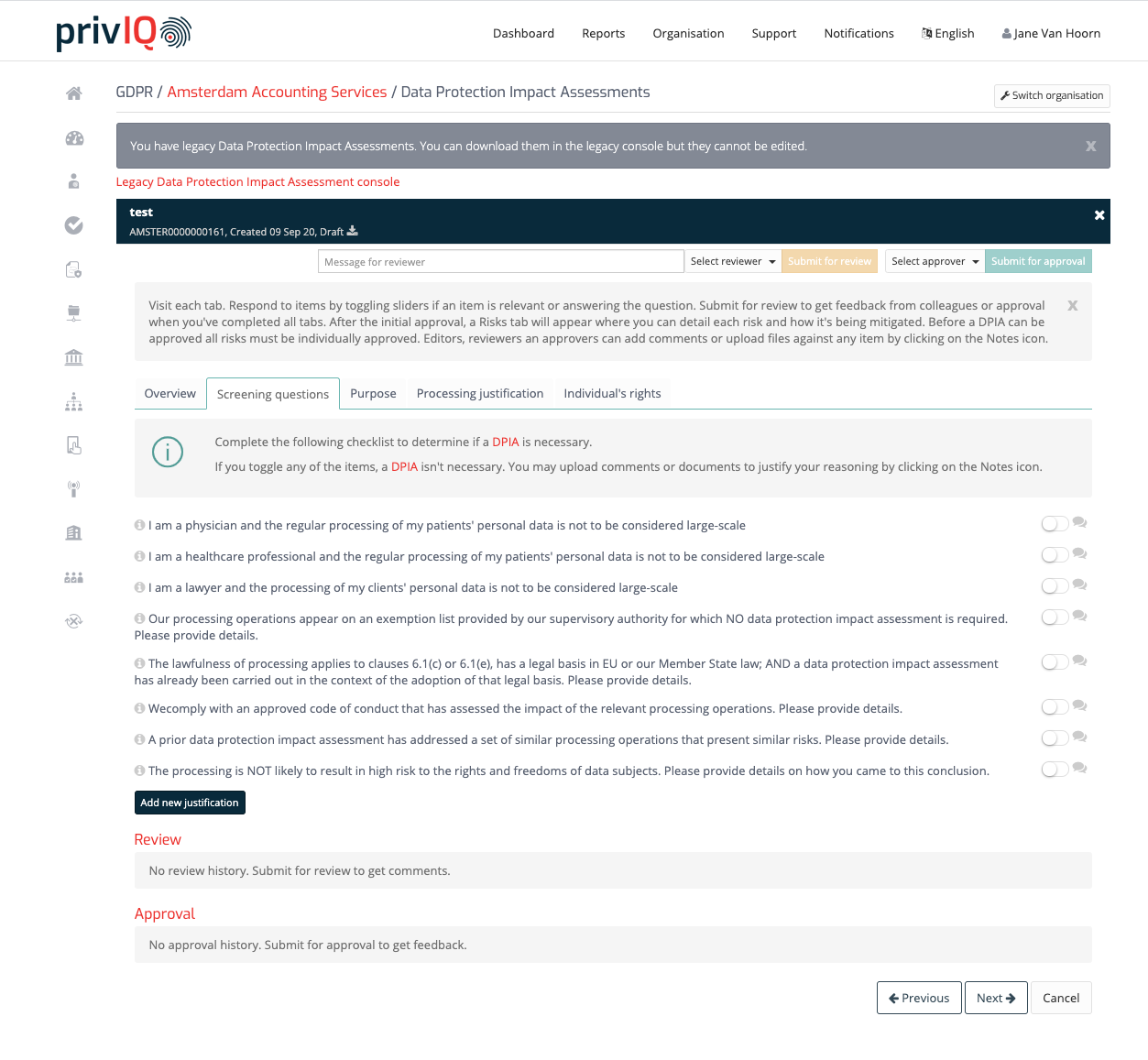 Data Protection Impact Assessments​​
Organisations need to assess any personal data processing that might result in high risk to individuals. Pre-defined screening and purpose questionnaires.​
Assess personal data processing that may result in high risk to individuals
Use predefined screening and purpose questionnaires
Use wizard to determine if a data subject's rights are protected
Subject Access Requests​
A subject access request is a request made by a data subject for the information that your organisation holds about them.
Receive SARs via a prebuilt form you can link to from any website or application
Offer multilingual forms
Use the guidance to respond correctly
Use the workflow to ensure you validate and respond before deadlines
Add written and verbal requests manually
Use the case-management system to record and store your SAR responses in one location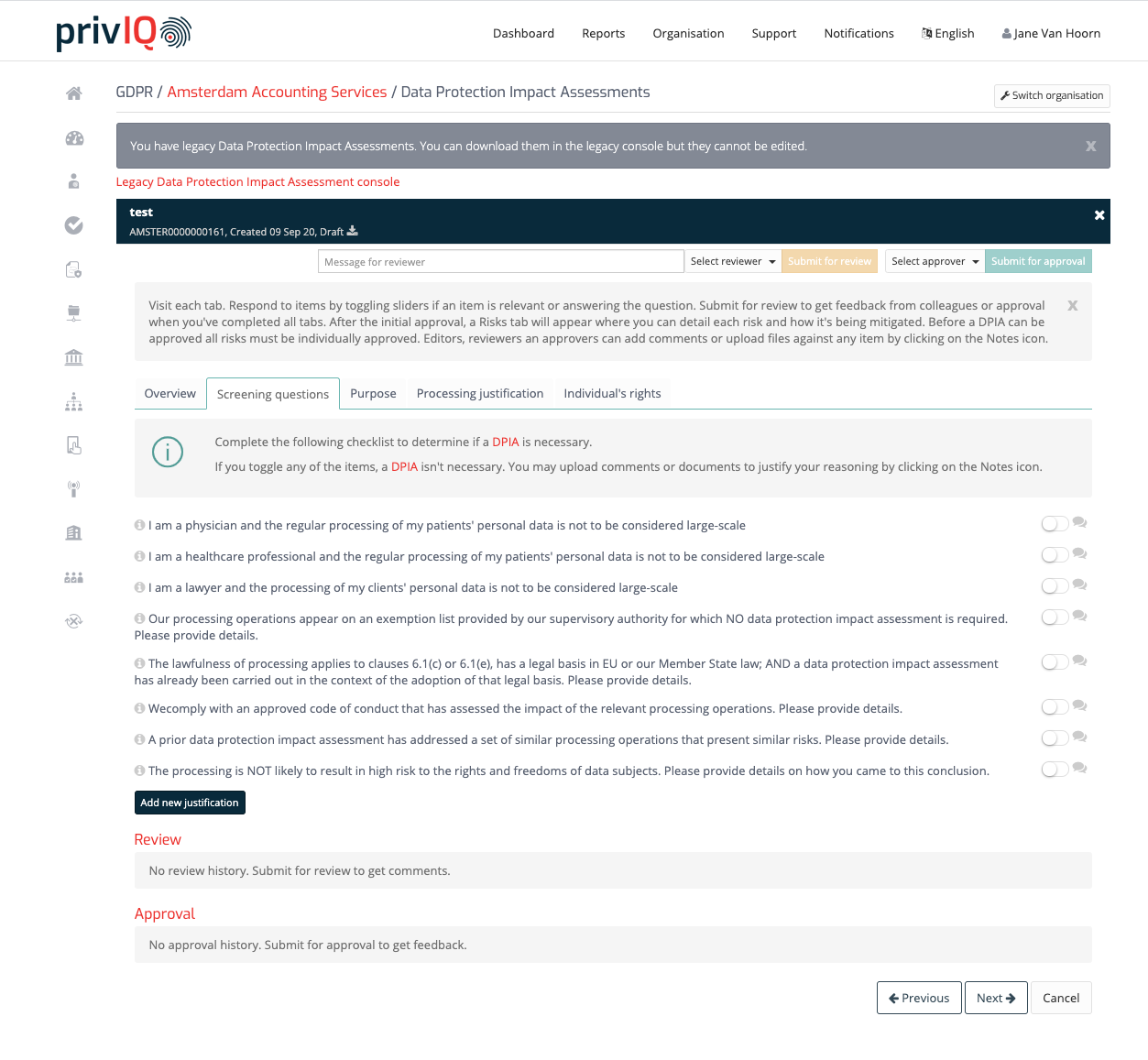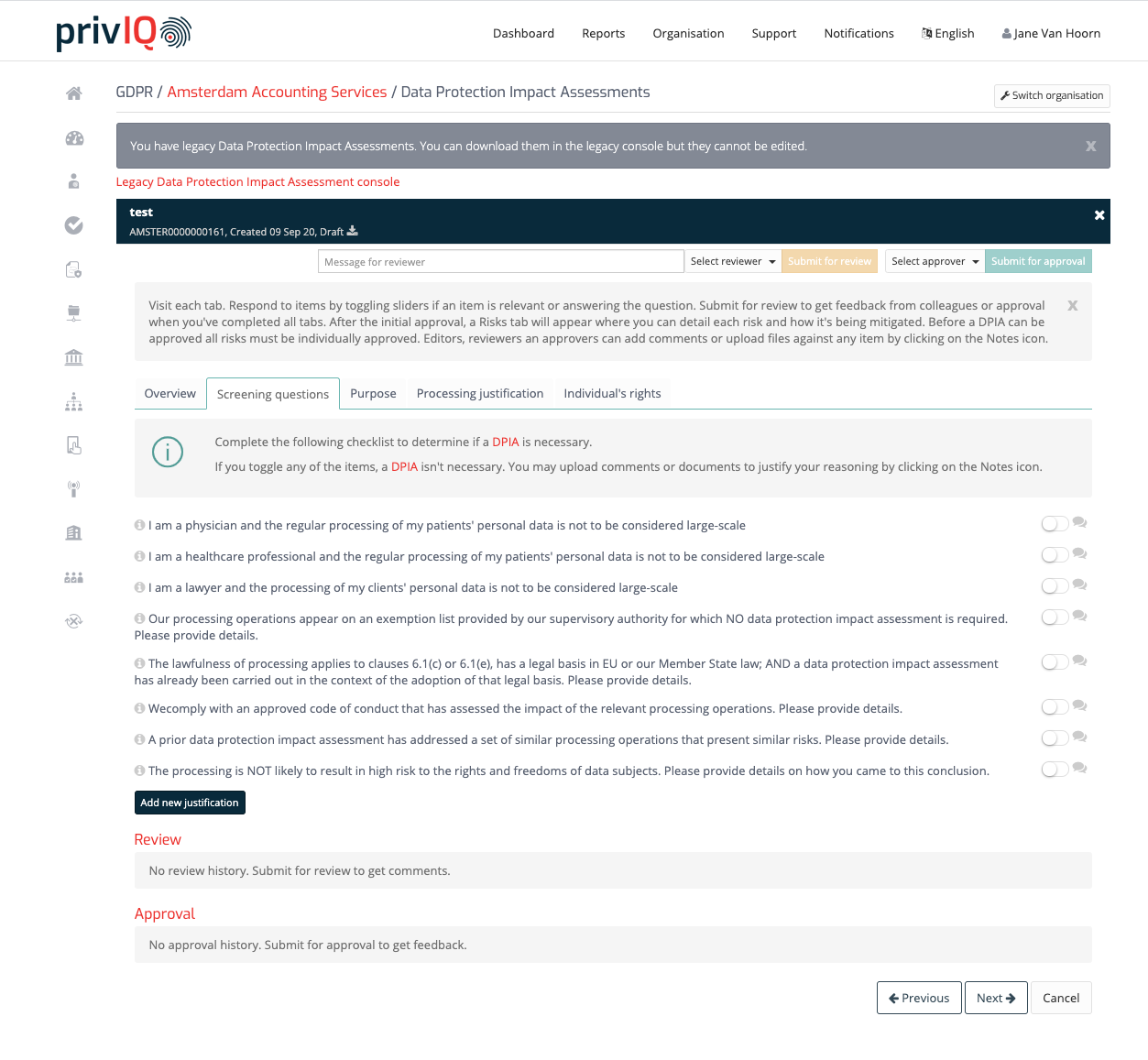 Breach Management​
The high incidence of data breaches means that avoiding a personal data breach is no longer good enough for small to medium-sized organisations. ​
We enable you to prepare for data breaches by having a system in place to manage your response to them, from assessing and documenting to reporting them within the stipulated time of becoming aware.​
Assess and respond to personal data breaches in the stipulated time period
Manage your responses from one location
Report data breaches to the authorities
Protect your organisation from the risk of a bad reputation